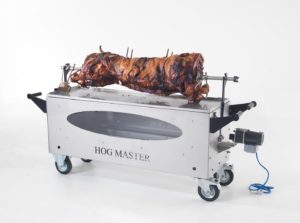 Hiring a hog roast machine could not be easier. Simply give us a call and we will deliver the machine with a bottle of gas ready to go, direct to your venue. The hog roast machine can be delivered with or without a fully prepared pig the choice is yours, take advantage of our carefully selected free range pigs or arrange your own pig locally. We will then collect the machine after the event either clean or dirty again the choice is yours, there is an extra cost for sending the machine back dirty. If you have several events planned over a longer period of time again no problem we can arrange for a hog roast machine hire for as long as you require it.
Our hog roast and spit roast machines are very easy to use and come with an easy to follow set of instructions. So next time you feel like impressing your friends and family and playing master chef why not try hiring one of our tried and tested top of the range hog roast machines for the weekend.

Looking to provide up to 50 guests with as many as three servings each from a single roast? No problem. We've got the classic-look Hog Roast machine for that. Need more servings from each roast? Check out the Titan, a dual machine that can supply up to 300 servings per roast. We've built up a selection of machines to suit your serving needs.
Machine Hire Accessories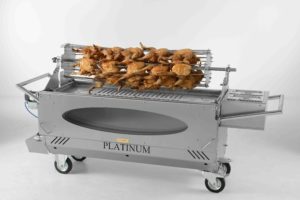 BBQ Kit – This great 'finger food' accessory sits squarely on top of the hog roast machine, providing extra serving options while the main course of slowly roasted hog meat cooks inside the machine. We're talking burgers, we're talking hot dogs, we're talking long queues and delighted smiling guests!
Chicken Spit Kit – The chicken spit gives you the option of offering an appetising choice of on-the-bone chicken dishes. How many chickens can you spit roast at one time? That depends on the size of your chickens, but we recommend an upper limit of around 36 chickens. The spit also doubles as a great way to cook up to 10 large strips of beef or 6 large pork legs. Add some diversity to your menu with this handy accessory.