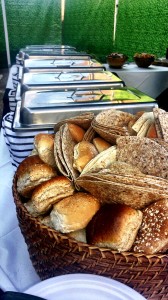 Welcome to Hog Roast Daventry – home of the best hog roast catering experience throughout the county of Northamptonshire. Why do we strive to be the best? Because the Rose of the Shires (as our county is charmingly known) has a long and proud 1000 year history of attracting huge crowds – and we think our guests deserve nothing but the most delicious mouthwatering results from their hog roast catering experience!
Hog Roast Daventry serves all major districts of Northamptonshire, including Kettering, Corby, South & East Northamptonshire, Wellingborough, Northampton, and of course Daventry itself.
Just how many people visit us each year? UK tourism has been steadily increasing year on year since 2012, with a total of 41 million overseas visitors expected to land on British shores before the year's end. Mixed with domestic visitors, the number of hungry bellies that we expect to welcome to our historic and picturesque county is around 19 million – that's a lot of hog roast catering to get through (and we're the East Midlands Hog Roast company that's more than up to the task).
Hog Roast Daventry – Good Eating in Northamptonshire
Why do we cover such a large area? Simple. To meet demand. Whether coach trips and families choose to visit our rural county to take in the adrenaline pumped attractions or whether the masses are headed our way to experience something a bit more cultural, such as Rockingham Castle, we're ready to welcome them all.
Heading to Northamptonshire? – If you're organising a trip, and you think that your guests would love the added party piece of a live hog roast, speak to us today for top advice on arranging a world class hog roast catering experience at your choice of venue.
Daventry Fresh Local Produce
The National Farmers' Union recently calculated that farming and food production in Northamptonshire can boast numbers such as 300 million eggs per year, almost 700 million loaves of bread per year, and over 30 million litres of milk every year. Easy to see how Daventry has a rich market town history stretching back over 700 years.
Choose your ingredients with Hog Roast Daventry – With all this fresh produce available on our doorstep, we are sure to exceed your expectations when it comes to the quality ingredients delivered for your hog roast catering at your choice of venue. However, if you prefer to supply your own meat, vegetables, bread rolls etc., that's fine, too. Better yet, let us know if you have any preferences on specific ingredients from your favourite sources and we will do our best to ensure that every aspect of your professional Hog Roast Catering experience meets with your demands.
Speak to us today to begin the conversation about Hog Roast Hire with Hog Roast Daventry – when you're ready to add the mouthwatering menu and aromatic allure to your party plans, we'll be here, ready to roast!